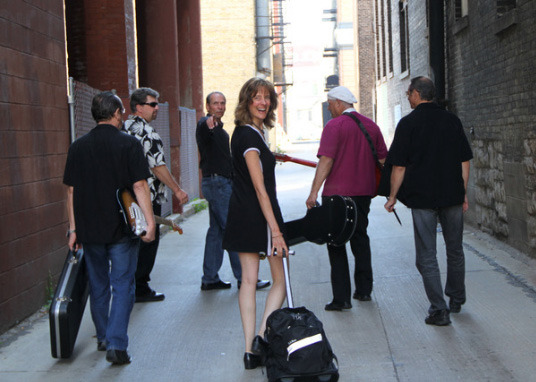 Follow me into 2012 - it's gonna be a great year of music, music, music.

Thank you, Maine, for a great time over the holidays; I'll be back for several weeks this summer.    And if you have any friends who asked "when is/was Julie here?" forward them this email and say "SIGN UP on the email list you CHOWDER HEAD!"        Oh, and for those who don't know how close Milwaukee is to Chicago - it's like Portland to Boston.  No problemo, so let me know if you visit Second City!  You can get theya from heya (so please do).
 
And, finally, this is what you are missing 
(but you don't have to, I've got a guest room)...
 
Ok - all you Cheeseheads - let's enjoy some SANGIN' and drive away the winter blahs...with blues & folk & more...

Milwaukee, WI, USA :
THIS WEEK!  (go here for the gritty details)

1)  Friday night - South End Blues Band - 9:30pm Bayview Brewhaus!

2) Saturday night  (now for something entirely different)
A Community Sing!  Remember singing around a campfire and knowing all the words?  We will be cosy at The Second Annual Sing Along at ihe historical Coffee House, and you'll have the words projected on the screen to help you out.  No pressure, just pure, safe, group singing fun!  I'll be one of the song leaders, along with the excellence musicianship of Craig Siemsen & Mark Dvorak.   You can donate, but you know it's priceless. (-:

3) This Wednesday morning and noon - Miss Julie's Music Fun classes... this is for tots and their caregivers.  I also have a Babies class!  Please spread the word to those you know who 'qualify' - it's held at a church right off of HW 45 (Mequon Exit) in Germantown;  I can offer a resident discount for those who don't live there.   JulieVoice@aol.com

SOON:

3) Blues band in Waukesha at Bosco's Social Club, Sat. January 28

4) Unity Church in Milwaukee -Family Sunday. 10 am service.  Special story and music for families! January 29th.

COUPLE WEEKS AWAY:

5) Jazz at The Tower Restaurant, Fri. Feb. 3 from 9:30-11:30pm

6) "Heart and Soul ~A Singing Valentine" at the Unitarian West (Brookfield, WI )  Saturday, February 4 at 7:30pm.
See my site for more info, or send me an email if I missed a detail.  I'll get back to you as quickly as I can.  

xo, JT

JulieVoice.com